Dates

Location

Venue

1/13 (Sunday)

Osaka

Kyocera Osaka Dome

1/19 (Saturday)

Tokyo

Makuhari Messe

1/20 (Sunday)

1/27 (Sunday)

Nagoya

Nagoya Dome

2/03 (Sunday)

Fukuoka

Fukoka Yahoo! Dome
Capcom has updated it's Wave Masters 2008 Homepage with Details. A Legend Card will be given out at the Event, it's not listed which Card.
KingGrandeur (Battle Card Transmission)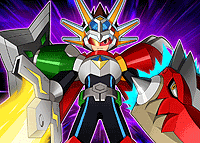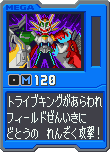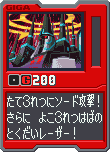 The "Tribe King" Battle Card has now been confirmed a name, "King Grandeur". We have yet to see the RaMu Battle Card announced this coming Summer.
RaMu (Berserk Version) footage
RaMu (Shinobi Version) footage
RaMu (Dinosaur Version) footage
FirstRockman (Brother Transmission)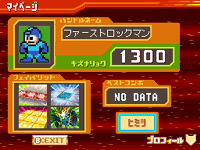 Having the original Rockman 8-Bit Rockman Sprite, FirstRockman has 1300 KizunaForce. It's undetermined what he actually gives being a Brother with him. His Favorite Battle Cards include a variety of Stage Battle Cards and a GoatKungfu Battle Card. I'm assuming that Favorite Cards for FirstRockman upgrade or may change once you reach further points in the Main Story Scenario like In-Game Brothers in the Brother Band System and Legend Master Shin for the first Ryuusei.